Brett Rynhart is originally from Orangeville, Pennsylvania, and is a 2004 graduate of Central Columbia High School. He attended Indiana University of Pennsylvania, graduating with a BSED in Music Education in 2008. During his college years, he participated in the Marching Band, Wind Ensemble, Chamber Singers, and is a member of Phi Mu Alpha Sinfonia. He taught for 3 years at Central Columbia Middle school as the Chorus director and General Music teacher. 
He then became a service representative at Haines Music in Selinsgrove until they unfortunately closed. Shortly thereafter, Brett became a service representative and affiliate of Country Music.
Brett established Rynhart Music Enterprises LLC in June of 2013 and it became an affiliate of Robert M. Sides Family Music Centers on September 2, 2014.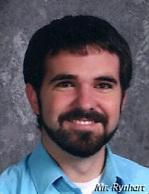 Brett currently performs with several area bands and ensembles as a trombonist and vocalist, including Into the Spin, the Penn Central Wind Band, and performing in the pit orchestra for local high school and university musicals.